AVAILABLE DATE
Due to the sold out lunch events, the dinner event will be held on the following dates!
Tuesday, December 5, 2023   (From 7 PM)
Tuesday, December 12, 2023 (From 7 PM)
Tuesday, December 19, 2023 (From 7 PM)
Tuesday, December 26, 2023 (From 7 PM)

OVERVIEW
We offer you an exciting chance to interact with sumo wrestlers!!
Learn the sumo world's behind-the-scenes stories and their daily life and enjoy Chanko-nabe hot pot!
This is a very rare opportunity to play sumo with sumo wrestlers (retired).
Let's eat CHANKO-NABE (hot pot cooking) with a SUMO PERFORMANCE. You cannot experience this at anywhere else!
You will hear accurate sumo knowledge and have an opportunity to try CHANKO-NABE. (CHANKO-NABE: unique meal in the Sumo world). We hope you have great time and enjoy Sumo world.
◆ENJOY THE SUMO PERFORMANCE
You will learn about sumo history, manner, training, the real match and so on with explanations in English.
1. Explanation about fundamental actions by two wrestlers (they were real sumo wrestlers in the past).
2. Introduction of some techniques including prohibited techniques
3. Real 3 matches
4. You can try playing Sumo with the wrestlers
*Guests need to wear a costume which is prepared.
5. Souvenir Photo with them!
*Demonstration contents may be changed due to a condition.
◆CHANKO AND SUKIYAKI(WAGYU BEEF) DINNER
Eating CHANKO-NABE (hot pot cooking) is a healthy and nutritionally balanced diet. Why can sumo wrestlers grow so much even if they eat such a healthy meal? It is because they eat it with a huge amount of rice, and they train hard every day.

~MENU~
・Sukiyaki(Wagyu beef)
*Sukiyaki is a Japanese dish made of beef, vegetables, tofu, and noodles simmered in a sweet sauce called, warishita.
・Chicken chanko-nabe(hot pot cooking)
*Chanko-nabe cooked by staff used be sumo wrestlers.
・Ice cream
・Oolong tea or water (included)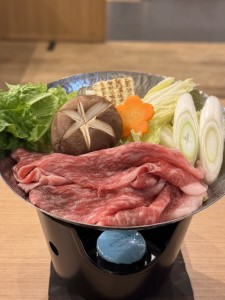 You can order alcoholic drinks and soft drinks for an additional fee.
Important note for Meal:
Please do let us know at least 2 days prior to your tour date, if you have any food restriction or allergy. We cannot arrange a vegetarian or special meal option on the day of your activity.
PRICE (PER PERSON)
13,000 JPY
*6,500 Yen for children under 11 years old (4-11 years old)

DURATION
2 hours
Sumo demonstration starts at 7:00 PM
You can start to eat Chanko dinner at around 7:00 PM
End of program at 9:00 PM (You may leave the restaurant any time before 9:00 PM.)
6:45 PM

Open

↓

Meals will be served in order from those who need them.
*Because it is possible to accommodate vegetarians, etc., please be sure to consult us in advance. Meal changes on the day of the event cannot be accommodated.

7:00 PM

Dinner start

↓

Enjoy your meals.

7:30 PM

Event start

↓

Sumo wrestling demonstration by former sumo wrestlers (basic movements, tori demonstrations, etc.) About 30 minutes

8:00 PM

Challenge to former sumo wrestlers

↓

You can try on a sumo mawashi and a sumo costume.

8:30 PM

Photo time

↓

You can take pictures for each family or group.

9:00 PM

End event

Thank you
AVAILABLE DATE
Tuesday, December 5, 2023   (From 7 PM)
Tuesday, December 12, 2023 (From 7 PM)
Tuesday, December 19, 2023 (From 7 PM)
Tuesday, December 26, 2023 (From 7 PM)
PICK-UP
Not available

PLACE
3-1-11 Tatekawa, Sumida-ku, Tokyo, Japan 'Yokozuna Tonkatsu Dosukoi Tanaka'
BOOKING PROCESS
1. Please contact us for availability through BOOK IT button below.
2. We will check the availability and come back to you within 1 business day.
3. Payment request will be sent Credit Card.
4. Reservation is done upon receiving your payment. Confirmation e-mail will be sent to you.

PAYMENT/CANCELLATION POLICY
Payment type

Cancellation Policy
Reservation cancelled less than 7 days before the program date will incur the following charges:
-Between 7days and 3days: 30% of the program charge
-2days in advance : 50% of the program charge
-Less than a day before or no show:100% of the program charge
*Time is in JST.